Message from Committee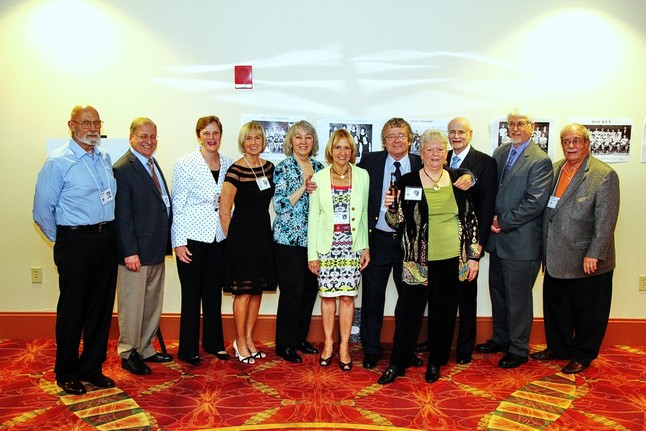 Newton High School Class of 1964 Reunion Committee - 2014
November 22, 2017
Dear Classmates,
On this grey rainy November day our Renunion Committee's thoughts turn to planning yet another get together in 2019.
As classmates have aged ... er... "matured" ... and moved away from Newton, it becomes harder for us all to get together for a reunion. As one (retired) person put it - "I have the time but I don't have the money"
A new Survey called "55th Reunion - Thoughts?" has been posted on this website for you to respond to. We used the results from the last one to plan the Boston Harbor Cruise. Please take the time to let us know what might make our next gathering a success for you.
The Reunion Committe is meeting this Saturday November 25th 2017 in Newton to discuss the next gathering. We are looking for people who would like to join the Committee to help with planning and execution of the next activity. If you would like to join us and attend the lunch, please email David Katseff <davekat@comcast.net> to let him know so we can be sure to reserve a big enough table.
The Newton High School Class of 1964 Reunion Committee wishes a Happy Thanksgiving to everyone!
*************************************************************************************************************************
Dear Classmates,
Your reunion committee wants to share with you some of the key results from the reunion survey, along with a reunion committee update.
Two of the most important items from the survey where the following: 1. When is the best time of year to have our next reunion? 2. When should the next reunion be held?
Survey says: 31% said the month of May for the time of year. 39% indicated 2 years for the next reunion and 51% said 5 years. We know that the expectation of duplicating our 50th reunion weekend may not happen, but we will consider planning for 2 and 5 year reunion events of a smaller scale.
Committee updates: Special thanks to classmates Tom Marquis and Ed Trundle for their very generous cash donation to Friday's night Meet and Greet.
Thank you to those who took time to reply to our survey, as you can see from above we have met and discussed the results. A total of 98 classmates replied.
The class web site is ours for many years to come. Please feel free to continue to post comments, pictures, and stories. Above all, please stay connected; help add more classmates to the site by reaching out to tell them about it.
The web site costs approximately $15 a month to maintain. This includes the server cost plus the Domain name. It is paid thru 8/8/2016. If the website is not renewed it will still continue - but will be paid for by ads.
Your reunion committee is seeking voluntary donations of $10 from you to ensure our web site's long term availability. Please make your check out to Helen Boyd and mail to Helen at 2 Lakeview Ave, Sandown N.H 03873. There is also a "Donation" button on the Home Page for Credit cards or PayPal. We thank you in advance.
Finally, your reunion committee will quarterly posted on our web site articles, interesting stories and general updates to help keep the web site active. Please help us by submitting and viewing on a regular basis.
In closing, we thank you all again for a wonderful 50th reunion weekend and look forward to hearing from you.