In Memory
Paul Cox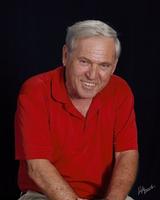 LEXINGTON – Paul was born in Boston, MA, on July 2, 1946 to Percy and Irene Cox. He was a Class of 1964 graduate of Newton High School. Upon graduation, Paul enrolled and was a student at Northeastern College. Paul left college in 1965 to enlist in the U.S. Navy; he served his country in the Vietnam War. In the Navy, he served on a riverboat patrol and survived enemy gunfire and combat encounters.
After completing his tour of duty in Vietnam, he was stationed at Charleston where he met the love of his life. His green-eyed beauty was employed as civil service at the naval base during her summer break from college. Paul married his soul mate, Lynn, on November 8, 1969. The young couple moved to Atlanta so Lynn could complete her college education and they could start a family. Paul and Lynn became parents in 1971 with the birth of their daughter, Jenni. Paul was a city of Atlanta police officer for ten years. He also served as his neighborhood security officer. He was known as "Chief" in his community and was loved by those he served. Upon leaving the Atlanta Police Department, Paul was fleet manager for WH Smith. Paul was employed by WorldPac until his retirement.
During his life, Paul enjoyed playing doubles tennis with his wife, Lynn, golfing with his grandson, bowling and spending time with his family. He also enjoyed cheering for his teams, the New England Patriots, Georgia Bulldogs and the Duke Blue Devils basketball team.
Paul was a life-long Christian, saved by grace. He was a member of Mt. Horeb United Methodist Church, where he served as a member of the Bread of Life and Welcome Teams. He also served as an usher during the services. He enjoyed attending Promise Keepers, Men's Prayer Breakfasts and small group.
Always quick to smile or tell a joke, Paul was a master storyteller. He was the life of the party and a friend to everyone he met.
He was known as Papa to his grandchildren, Gretchen and Trey, who he adored. Paul loved his wife, daughter, grandchildren and family.
Paul is survived by his wife of 50 years, Lynn Waldrop Cox; daughter, Jennifer Cox Clifton and her husband, Jim; grandchildren, Gretchen Lynn Hendrix and George "Trey" Edward Hendrix III; sisters, Carol and Phyllis; brother, James and wife Juany, and several nieces and nephews. He is preceded in death by his parents; his brother, Eddie and sister, Marion.
https://www.dignitymemorial.com/obituaries/lexington-sc/paul-cox-8857437